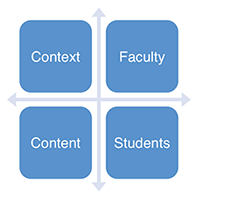 Earlier this spring, I participated in an author series panel at Teachers College, Columbia University to discuss online teaching and learning in higher education. The panel was moderated by Steven Goss who is the Vice Provost of Digital Learning and brought together authors who have written about online education to discuss the considerations and challenges of developing and delivering online programs.
There were over a dozen questions that the authors were asked to consider, and I've listed a few of them here, along with a brief response for each. My responses are based on my experience, research, and practice. These stem from my basic belief that the core components of any learning experience include the faculty, content, the context, and the students. These ring true for online courses as well.
1) Could you provide the audience with the definition you use to define online education? What exactly is online education in 2016?
Online education is when some portion of "seat time" in a traditional class is replaced by online learning activities.
2) What's happening in online education right now that is innovative or game changing?
The culture of experimentation with online education is pervasive through institutions of higher learning. There is more emphasis on data and the academic return on investment. The conversation has also changed; everyone from deans to parents are talking about the learning. This wasn't the case five years ago.
3) From the perspective of online education, what will education look like in the next five to ten years?
Hopefully better than it looks now. Much of what we see mirrors the media-centric years of educational television from the 1950s. I don't think we've made much progress in creating rich immersive experiences for students in an online environment. I think because it is expensive, time consuming, and there are varying levels of expertise. I am hopeful that the solutions will evolve, and the field of learning sciences will further drive the design of online learning systems and curricula.
4) What do you think are the advantages and disadvantages of teaching online? 
For teachers, it is an opportunity for them to challenge themselves and their practice. It enables teachers to rethink their pedagogy as they have to consider how to create an interactive and participatory learning experience for students at a distance.
However, online course design and teaching takes time to master. Not all faculty are provided with the necessary support and infrastructure to ensure the success of their courses. I often think the incentives for faculty are not totally there.
5) What would be your biggest piece of advice for a teacher developing and teaching an online course? 
Always put yourself in the learner's shoes. Start with identifying regular points of engagement within the course. Focus on the roles of the learners and faculty. Design points of engagement and interaction, plan how you will provide frequent feedback on student work, and how you will help the student practice and progress throughout the course.
6) What would be your biggest piece of advice for a student taking an online course?
There is no standard script for how an online course runs. When students enter a classroom, they know they have to be quiet and that they should have read the assigned readings in advance of class. Get to know your classmates and your professor. If you don't understand something, ask. Use the supports that are provided to you. Put pressure on your institutions to provide you the same services available to onsite students.
7) Are there things you introduced in your online programs, or that you've seen attempted in online programs, that you would you tell others to avoid?
I would recommend getting out of the video studio. Many programs focus on the creation of media content, without considering the full experience of the students and faculty. Consider the conversations, the points of collaboration, and the interactions between the faculty and students as the key modes of learning, not video lectures.
8) If someone wanted to see great examples, or find valuable resources for better understanding online education, where would you send them?
It's not a single book or website. I think you'll learn a lot by taking an online course yourself. Go to conferences and sessions focused on educational technology and learning science. Look for the things that work for learning, rather than fancy ways to organize and curate content. AERA sessions on instructional technology. The Online Learning Consortium (OLC) is amazing if you want to see a million different ways you can offer an online course, program, etc.
9) What's one thing from the books you've written that you think would help someone wanting to know more about any of the discussion points we've discussed today?
Quite simply that course design is different that online teaching. Specifically, The Essentials of Online Learning: A Standards-Based Guide outlines the course design process for faculty and administrators. The book helps you form the mental model of what's required, and separates the course design from the actual course teaching. There are plenty of examples that illustrate ways to present new knowledge to students, while mentoring and scaffolding their learning. The emphasis I placed on the design process is guided, and begins with the familiar elements required for any course.
Dr. Kristen Sosulski develops innovative practices for higher education as the Director of Education for the NYU Stern W.R. Berkley Innovation Lab. She also teaches MBA students and executives data visualization, R programming, and operations management as an Associate Professor at NYU's Stern School of Business. Kristen's passion for technology and learning sciences converges in all facets of her career, inside and outside of the classroom. Follower her on Twitter at @sosulski and learn more at https://kristensosulski.com. 
Considerations and challenges in developing and delivering online programs