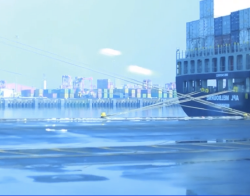 In a recent article, my colleague and I published Operations Management Outside of the Classroom: An Experiential Approach to Teaching Enabled by Online Learning, which described a course that brought experimental earning to the MBA curriculum. This course is called Ops in NYC, and it leverages the Big Apple as the classroom as we hold class meetings at real businesses.
I. Objective

For students to learn operations management in an authentic setting at real companies.
II. How we designed the course
The course vision is to 1) Use NYC as our classroom 2) Study and observe business processes at six or more companies on location 3) Experience business operations in practice within a community of experts, practitioners, and peers. 4) Use online modules to provide students with the foundational concepts and additional knowledge.
III. The experiential part of the course.
Of course, the most exciting parts of this class are the field visits. This spring we're visiting the following locations:
Maher Terminal
What is it? "Maher Terminals LLC is one of the largest multiuser container terminal operators in the world… [Maher] has developed North America's largest marine container terminal in the Port of New York and New Jersey. This highly efficient container terminal operation strategically located in the heart of one of the world's most affluent consumer markets provides ample container throughput capacity to efficiently meet and exceed the current and longer term operating requirements of our ocean carrier customers1".
What we will study? We will learn about the major functions of a container terminal at Maher Container Terminal. We will use process analysis techniques to analyze the various processes at the container terminal. We will see Maher's role as an efficient logistics center in the global intermodal supply chain by moving containers from ships to trucks and trains.
Whole Foods
What is it? "Whole Foods Market was founded in Austin, Texas, when four local businesspeople decided the natural foods industry was ready for a supermarket format. Our founders were John Mackey and Renee Lawson Hardy, owners of Safer Way Natural Foods, and Craig Weller and Mark Skiles, owners of Clarksville Natural Grocery. The original Whole Foods Market opened in 1980 with a staff of only 19 people. It was an immediate success. At the time, there were less than half a dozen natural food supermarkets in the United States. We have grown by leaps and bounds since our first store opened2".
What we will study? We will study the waiting lines of Whole Foods. Specifically, we will observe and record arrivals of customers at the check-out, number of servers (cash registers), and service times.
NYC Taxi and Limousine Commission
What is it? "The New York City Taxi and Limousine Commission (TLC), created in 1971, is the agency responsible for licensing and regulating New York City's medallion (yellow) taxicabs, for-hire vehicles (community-based liveries and black cars), commuter vans, paratransit vehicles (ambuletes) and certain luxury limousines. The TLC licenses and regulates over 50,000 vehicles and approximately 100,000 drivers, and performs safety and emissions inspections of the 13,637 medallion taxicabs three times each year, as well as biennial inspections of all TLC-licensed For-Hire vehicles, making it the most active taxi and limousine licensing regulatory agency in the United States3".
What we will study? We will study the TLC and its three major divisions of enforcement, safety, and prosecution. The operations topics we are studying are quality and quality management. The TLC is an organization that is continuously changing with the latest technologies, including hybrid vehicles, credit card scanners, GPS, and new systems to track taxis. This operation is the largest of its kind with regard to the inspection station that does a full DMV inspection in addition to the TLC inspection. We will observe the process that a TLC licensed vehicle undergoes to ensure the safety of its driver and passengers. The TLC defines quality as safety and professionalism. The inspection station is one of many efforts for the TLC to ensure quality. Other efforts include taxi school and continuing education for drivers, high levels of customer service from the prosecution division, and the enforcement of TLC regulations via the enforcement division.
JetBlue Airlines
What is it? "JetBlue Airways was founded in 1999 to provide low-cost flights to previously underserved markets. It would use technology both to improve the customer experience and to increase employee and aircraft productivity. The company was founded by David Neeleman, who had previously cofounded Morris Air, a low-cost airline based in Salt Lake City, Utah, which he sold to Southwest Airlines4" .
What we will study? We will learn about irregular operations (unplanned events), and what it takes to keep an airline up and running. We will study consumer relations and flights are kept on schedule to ensure a timely flight performance, which includes analyzing the boarding and deplaning processes. These topics will be discussed and observed at the JetBlue gate at JFK airport.
Fresh Direct
What is it? FreshDirect is one of the nation's leading online food brands, known for its convenient home delivery service and the manufacture of fresh, delicious food. Changing the way customers shop for groceries since 2002, the company uses a direct distribution model with in-house, overnight production that cuts out the middleman and helps FreshDirect offer farm-fresh food at low prices. Every product is 100% satisfactory guaranteed, every time. Since FreshDirect takes delivery directly from farms and manufacturers and delivers those products the very next day, compared to conventional grocery stores that move their products through much longer supply chains, the foods offered at FreshDirect are fresher and better quality at lower prices5.
What we will study? We'll learn the process flow for FreshDirect, and focus on their logistics and scheduling of delivery trucks and routes. We'll uncover how the plant and transportation teams communicate, plan, and deploy their assets to optimize order-processing and on-time delivery to meet and exceed customer expectations.
Intersection
What is it? Intersection is a technology and media company committed to transforming customer, visitor, and employee experiences in shared and urban spaces. Intersection is the result of a merger between Control Group and Titan and their acquisition by a consortium of investors led by Sidewalk Labs, a recently launched partnership between Dan Doctoroff and Google.
What we will study? We will study operations consulting in the context of two Intersection projects: LinkNYC and MTA on The GO (OTG). The projects featured in the course involves the introduction of a new product to change a process, or offering a new service entirely.
IV. Activities to engage students in experiential learning
This spring it is in its third iteration.
We've made several changes since we launched the course in 2014. We began the course with 25 students in year one. In year two, the course became so popular, that we rapidly scaled to serve 90 students. We quickly learned that 1) experiential courses are difficult to scale and 2)
it is critical to be over explicit about the relationship between experimental learning opportunities and the students role in the process.
This year, we have reduced the class size, and emphasized the student's role in the learning process more than we had in the past. In fact, we designed specific points for students to own and lead discussions 1) in advance of the site visit 2) during the site visit and 3) to reflect on the key takeaways after the site visit. The figure below illustrates the key student activities before, during, and after the site visit




This format is intended to set the role of the learner as an active participant in the conversation with business leaders at the site visits. We emphasize to students that they shouldn't think of themselves as tourists at these companies, but as consultants trying to understand a business process, as they identify and ask pertinent questions to help further their understanding. The course is designed to have students learn through observation, interaction with experts and professionals, and online learning modules in addition to traditional classroom methods.
Have you incorporated field work and/or site visits into your teachings? Are there techniques and strategies that worked well? Share your comments on the blog post that accompanies this presentation:
Look for future posts that describe key takeaways from each site visit, and details about how we have designed the assignment to foster student engagement around experimental learning. 
Kristen Sosulski is an Associate Professor of Information Systems and Director of Education for the W.R. Berkley Innovation Lab at NYU Stern School of Business
Footnotes
4: Jetblue Airways: A new beginning by David W. Hoyt; Charles A. O'Reilly; Hayagreeva Rao; Kerry J. Sulkowicz (2010).
5: FreshDirect case study for Ops in NYC by Audrey Messer (2014)
Designing Experiential Learning: A field example