January is a good time to reflect on your accomplishments from the previous academic year. Many of us in academia have to provide annual reports on our progress as faculty. From personal experience, I feel that we undersell the work we do as teachers. Here are some things that are worth highlighting with regard to your teaching practice.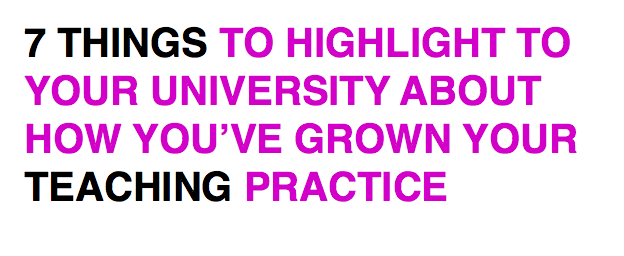 | | |
| --- | --- |
| | Guest speaking. Did you fill in for a colleague to deliver a guest lecture? Be sure to note any positive feedback, especially if you were asked to return for future classes. |
| | Nifty PowerPoints. Did you redesign some of your course materials? For example, you may have included additional data visualizations and graphical illustrations in your PowerPoint presentations. This is worth noting if you feel that these changes improved your preparedness, communication, and ultimately the students' understanding of the materials presented. |
| | Guest experts. Did you invite guest lecturers or experts into the classroom? Describe their roles and interactions with students. For example, guests may have provided students with a new perspective, or authentic feedback on their work. |
| | Video tutorials. Did you create or present a video in your classroom to help students learn a process or task more effectively? Many in our field use video tutorials to help students learn new software, as opposed to using valuable class time for live demonstrations. With this method, class time can be preserved for discussion, further practice, and application. This technique is commonly referred to as the "flipped classroom." |
| | Collaborations with your school's teaching and learning center. Have you met with an educational technologist to discuss new ways to apply innovative technologies to your course? It's important to highlight these conversations, even if you are still in the ideation phase. |
| | Site visits. Did you take your students out of the classroom to visit a company, museum, etc., to observe a process, artifacts, or phenomena? Note examples of what was learned from these events, as well as some feedback from the students. |
| | Online and digital learning. Have you created a digital version of your course for your school's learning management system? Maybe you set up group work spaces for your students, or used discussion forums to facilitate reflection and conversation. Some faculty members have even created fully online classes, or online resources and lessons to complement their face-to-face courses. Note your progress towards becoming a professor in the digital age. |
Check out the Slideshare presentation below that accompanies this post.
Do you have any questions? Leave your comments below or ask me on Twitter.
Kristen Sosulski is an Associate Professor of Information Systems and Director of Education for the W.R. Berkley Innovation Lab at NYU Stern School of Business.
The Innovative Teaching Professor